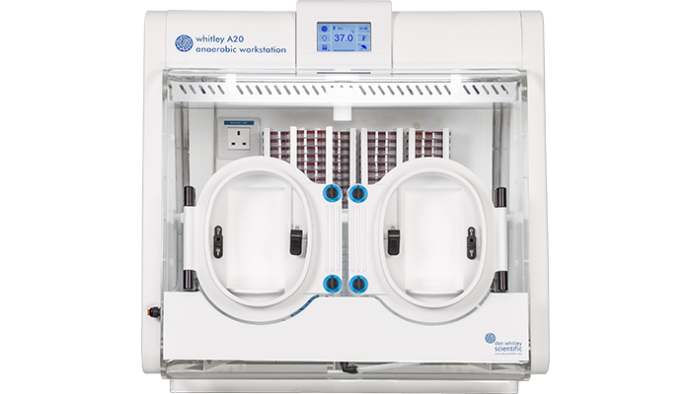 Whitley Workstations
Whitley A20 Anaerobic Workstation
The A20 is the perfect first step-up from using anaerobic jars to using a workstation. It has the same precise control of parameters as our larger workstations, ensuring the very best anaerobic conditions are maintained. You can check your plates as often as you like and perform tasks inside the workstation without risk to your samples.

Whitley Workstations
Whitley A35 HEPA Workstation
Now you can have a perfect anaerobic environment with HEPA filtration - ideal for the cultivation of slow-growing anaerobes or for complex manipulations under anaerobic conditions.

Spiral Plating
WASP Touch
A new spiral plater with colour touchscreen interface, designed for the needs of modern microbiology laboratories

Whitley Workstations
Whitley A25 Anaerobic Workstation
The most compact workstation yet! The A25 has instant access ports, colour touchscreen, an airlock, and still provides the very strictest anaerobic conditions.

Whitley Workstations
Whitley A155 HEPA Workstation
The largest workstation in the Whitley range, the A155 HEPA has been developed especially to accommodate large pieces of equipment that need to be used inside strict anaerobic conditions.

Whitley Workstations
Whitley A45 Anaerobic Workstation
This anaerobic workstation has three ports for convenient user access to the entire incubation and working areas. Available with a mixture of instant access ports and conventional ports to give you the best arrangement for your application. 

GMP Compliant Workstations
Whitley H135 GMP Hypoxystation
This GMP capable workstation* combines sterile laminar airflow with the ability to control atmospheric oxygen content from ambient down to 0.1%.
*Patent applied for

Whitley Hypoxystations
Whitley H35 Hypoxystation
The H35 Hypoxystation creates hypoxic and anoxic conditions within a controlled and sustained workstation environment. It is ideal for cell and tissue culture researchers wanting to accurately control oxygen, carbon dioxide, temperature and humidity.

Colony Counters
ChromaZona
IVD certified to bring rapid, repeatable microbial identification and AST to EUCAST standards. Ideal for clinical laboratories requiring traceability of results. 

Whitley Workstations
Whitley A55 Anaerobic Workstation
Now you can have an anaerobic workstation with an airlock at each side of the unit. Huge capacity, removable front as standard and Instant Access Ports. 
Don Whitley Scientific –  The leading international supplier to the microbiology and tissue culture industries.
We develop, manufacture, market and service instrumentation and associated products for the public and private sector.
We offer maintenance and repair contracts for a variety of laboratory equipment, not just the products we sell and distribute.